Live Feed

George Junior High
about 8 hours ago
Wrangler Families: Buses #145 and #155 will NOT be running this morning or this afternoon. If you can, please make other arrangements for your child to get to and from school. If you cannot make other arrangements, have your student email Mrs. Eads or you can call the office and let us know. Sorry for the inconvenience. Your student needs to be working online in Google Classroom if they are remaining at home.

George Junior High
4 days ago
Wrangler Families: IMPORTANT: If your student rides bus #155 home in the afternoon please plan on coming to GJHS by 4 pm to pick them up. We will NOT have Bus #155 this afternoon or Friday morning/afternoon. Sorry for the inconvenience.

George Junior High
4 days ago
Wrangler Families: Bus #145 will not be running a morning or afternoon route today or Friday. If you plan to take your student to school, please have someone ready to pick them up by 4:00. If you cannot get your student to school or pick them up, they should be getting on Google Classroom and doing work from home. Have your student email their teachers about assignments they complete and questions they might have. We are sorry for this inconvenience and are glad the district provided Chromebooks for students to continue to use them from home in these situations. We are hoping the bus will be running on Monday, Jan. 25. Please call the GJHS office between 7:30 and 4:30 if you have questions.

George Junior High
6 days ago
Wrangler Families:
Over the past week or so, we have noticed several issues that needed to be addressed or friendly reminders regarding your student's Chromebooks and/or the use of your student's Chromebooks.  Please read the following important information.  This information will not only save you money on damages, it will also help keep your students safe.  (Any charges that you receive for damages to your student's Chromebooks here at GJHS will follow them to their next school (High School or another Junior High).  They will not receive a Chromebook there until their charges have been paid). Hopefully by following these reminders, the amount of charged damages will be minimal.  Thanks for your understanding and cooperation!.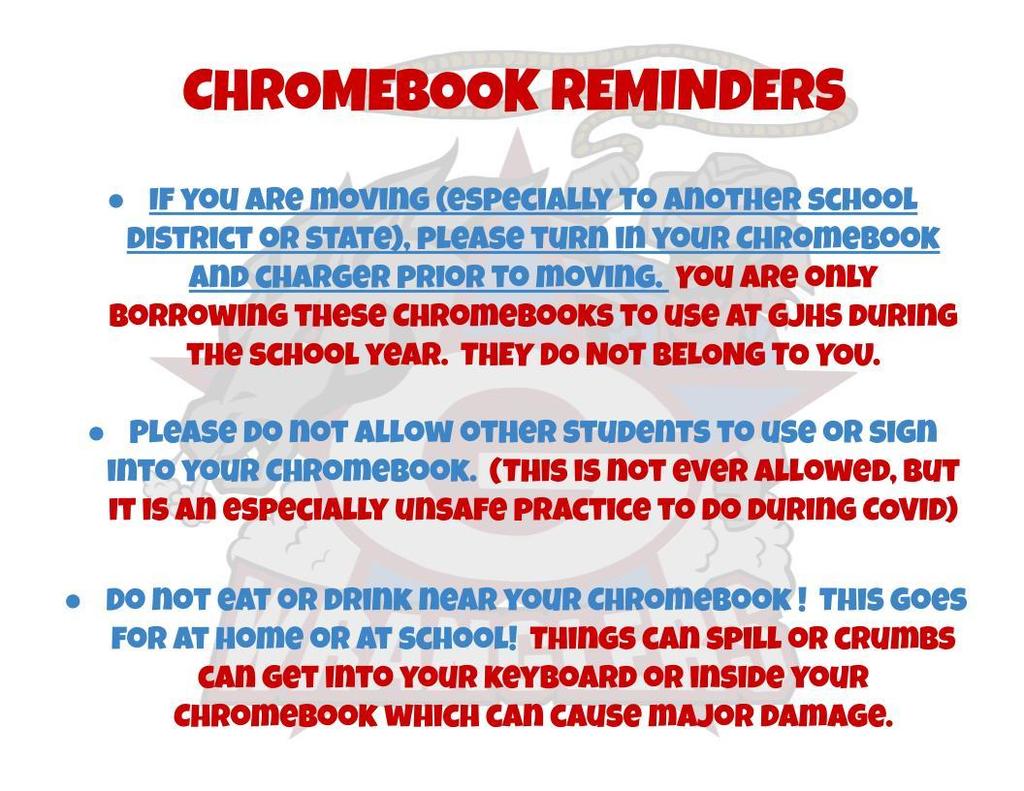 SEE ALL POSTS